Sign-Up for SUMMER SCHOOL Here!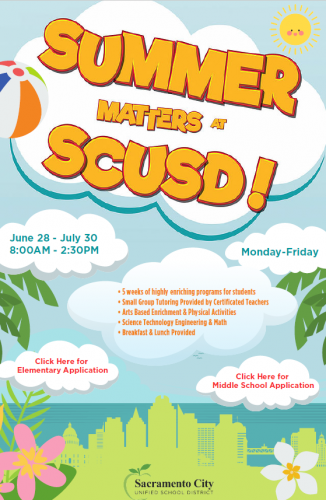 Hi Kemble Family!
This year's summer program is the SUMMER MATTERS Program which will run for one month, starting June 28th thru July 30th; every Monday – Friday from 8:00 am – 2:30 pm.
Included in this FREE Program:
* 5 weeks of highly enriching programs for students
* small group tutoring provided by certificated teachers
* arts-based enrichment and physical activities
* science technology engineering and math
* breakfast and lunch will be provided
If you are interested in having your child(ren) participate in this year's summer program, you can complete the application one of three ways:
1. Open one of the attached language flyers under RELATED LINKS and click on the cloud titled: Click Here for Elementary Application. You will be directed to the online application where it will be processed IMMEDIATELY.
2. Come to the school and get help completing the online application. Every Monday, between 1 – 3 pm, we will have a few computers outside the front office. You will get one on one assistance with completing the online application. Once submitted, it will be processed IMMEDIATELY.
3. Come to the school to pick up or stay and fill out a hard copy, which we will collect and enter into the system for you. Please know that these applications will NOT be processed immediately but at our convenience.
Have a great summer!